14.04.2020
Any relationship specialist will tell you that if you want to keep the spark alive between you and your beloved partner, you should continue to woo your soulmate even if you have been living together for 10 years. Romance is one of the keys to harmonious and happy long-term relationships without betrayals and constant misunderstandings. If you say that you have a busy schedule and don't have time or energy to go anywhere after work, then we will tell you that there are many ideas for a date night at home that will also help revive your love feelings and get closer. Most of the date ideas at home will not require a huge budget, so the very thing you need to please your beloved partner is your desire in combination with imagination. It's not that difficult and scary, is it? Such pastime will help you tune to positive vibes, spice up your relationships and just spend time with pleasure. On the web, you can find some simple but still good options like movie date night at home and some more complicated and fascinating variants. If you don't have the mood to go anywhere, but you have free time together, try to get the best out of it.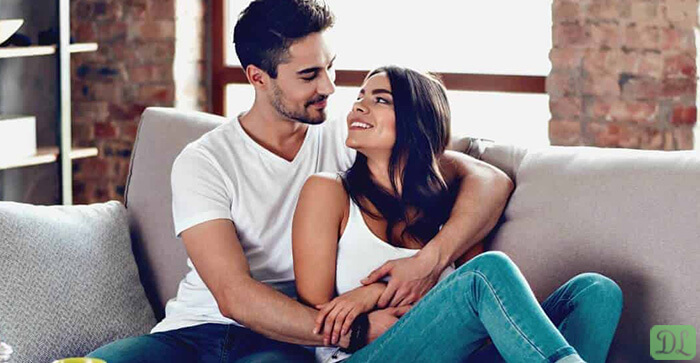 Tips for Arranging Romantic Date Nights at Home
Don't you think that date nights at home are something very intimate? There are only two of you, so nobody can interrupt you or spoil the atmosphere. Even though you may not have children yet, going out for date night can still be a challenge. If you have full-time jobs after which you go to the gym or do the required household chores, it can be hard to make yourselves go out of the apartment in the evening. Or maybe you have recently moved to a suburb and don't always want to drive to the city to have fun at night. You have numerous reasons why you want to try some stay at home date nights, and it's okay because even the most active extroverts want to turn into couch potatoes sometimes and arrange a Netflix marathon or spend an evening on an online dating site if they are single. However, if watching movies seem too banal for you, and you don't feel like spending time on it, then it's time to see how to arrange romantic date nights at home and get maximum pleasure.
1. Fix the date and eliminate distractions
We are all grownups, so we realize that nothing happens by itself, and if you want to have a date with your significant other, you should schedule a time for it. You may have deadlines at work, kids and many other things that require your involvement, so if you don't set the date to devote time to each other, it may not happen at all. It's about the peculiarities of the modern lifestyle. Besides, talking about the latter one, you should limit all the possible distractions beforehand. Thus, if you have children, then make sure they will have a babysitter or visit your parents. You should put your phones away and eliminate all other things that will remind you of "very important things to do." Your romantic date night at home must be your choice.
2. Take turns arranging date nights at home
Do you remember that you should arrange your date nights at home regularly to keep the sparkle alive? And it doesn't mean that only one partner should always do everything. It will not lead to anything good overtime. One partner shouldn't be in charge of keeping romance in your couple, so take turns arranging your dates. To avoid any unpleasant situations, you can come up with a list of suitable at-home date night ideas that both of you can safely use when decide to arrange a date. Romance on schedule can be still exciting and pleasant, and it will allow you to show your partner that you care about the atmosphere in your couple. And being a good boyfriend, don't forget that even the most well-thought-out plan can be spoiled with some unexpected changes, so you should have a backup plan just in case.
3. Use all the opportunities
Well, yes, romantic date night ideas at home suggest that you will come back home in the evening and begin to arrange your date. However, your reality can be much different. It can turn out that you have not the best period at work, so you have to stay late at the office to meet deadlines, and when you come back home, you are too exhausted to arrange a date night. Nonetheless, it's not an excuse to skip romance and wait for some better time. You can arrange your date in the morning when both of you have time. Just choose the most suitable option and wake up a bit earlier to spend time together and get your portion of love and positive vibes from the early morning. The ability to be flexible and adapt to any situation can help you keep romance in your relationships. However, getting back to the date night ideas at home – try something new to get pleasant emotions.
4. Don't be afraid to adapt interesting ideas
It can happen that you have run into an interesting idea, but it doesn't suit your preferences to the fullest or all the typical date night ideas are just not your cup of tea. It's okay. You can take an idea and tailor it to your liking. Turn on your imagination and use the ideas provided as a source of inspiration. Change "ingredients" to create your masterpiece even it is not as impressive as you saw in a movie. You do all this stuff to spend time together and enjoy each other's company, so don't take on too much if you don't want to become tired because of great preparations.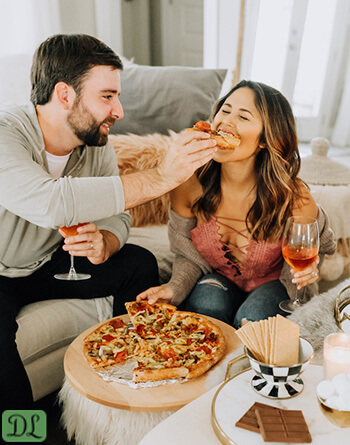 Romantic Date Night Ideas at Home
Many people believe that it's impossible to come up with any worthy date night idea at home because it must be boring, trivial and definitely uninteresting for some reason. However, it's not the case. On the Internet, you can find a tremendous number of fun date nights at home, and it seems to us that you haven't even thought about anything like that. Your date night idea shouldn't be only about eating pizza and watching another episode of your favorite TV series if you don't want such a scenario. Your date night should reflect your relationships, your personalities and meet current desires to help you get closer.
1. Making cocoa and reading poetry
If you can call yourselves romantic natures who are into poetry, then you can arrange a wonderful low-cost date night, having made cocoa and chosen your favorite book of poetry. Have you ever noticed that cocoa has a relaxing effect and tunes you to an amazingly cozy atmosphere? If you have a hard day at work, and the only thing you want at night is to distract from numerous problems and immerse yourself in pure coziness, then you will definitely like this idea. It would be great if you have a fireplace. You can arrange such a date night whenever you want since it doesn't require any special preparation.
2. Taking a bubble bath
It's funny that many people decide to install a bathtub or even Jacuzzi to never use it to the fullest. Yes, the modern pace of life doesn't allow us to relax very often and spend a lot of time in a bathroom, so we prefer to take a shower because it saves time. So, it turns out that taking a bath can become a real event, especially if you add bath soap, light candles, turn on lounge music and share this moment of full relaxation with your beloved partner. Such a pastime will help you slow down a bit and just relax. Sometimes, a bubble bath and a glass of good wine are the best date night scenario.
3. Playing "would you rather?"
If you have a playful mood, but you don't have much energy to come up with complicated home date night ideas and implement them, then you can play a game that will help you get to know each other better and spend time with pleasure. You can take some snacks, make tea or pour a glass of wine to create an additional atmosphere of coziness and frivolity. Usually, people discuss some safe topics at the initial stages of the relationships, and when they move further, their heads are occupied with current problems and events, so they know each other superficially. If you want to change this situation and learn something new, unexpected about a person you have a relationship with, then such an easy game can become a good helper in this regard. If you don't know what to ask, look for the list of questions on the Internet.
4. Showing each other your favorite YouTube videos
We're sure that you have at least a few dozen YouTube videos that have influenced your worldview, made you cry or laugh. Do you think your significant other has one too? It is time to find out. We suggest having an evening watching your favorite videos (which, no doubt, will help you get to know each other a little better). For a video date night, you will need potato or fruit chips, a laptop with an Internet connection and a list of treasured videos. The main thing is to remember that a date is an opportunity to discover your partner, and an active self-presentation may be superfluous, so don't offer to watch only your videos.
5. Giving a massage
This option may seem pretty ordinary, but we could not help but mention it. Of course, it should be something more interesting than scratching the back of your partner. By the way, this option can be a continuation of the previous idea. You may suddenly remember that you know an excellent video with a romantic (erotic) massage, and then it's a matter of technique. The main thing here is not to overdo it. Do you remember the sad experience of Monica from Friends, who did the "best worst massage ever"? A relaxing massage is impossible without aromatherapy body oil and, of course, your gentle hands.
6. DIY party
When was the last time you do something with your own hands? Apart from making coffee in the morning, of course. Date night is a great occasion to have fun, and, for example, draw cute cards for each other or try fluid art. There is nothing difficult in it, and you can easily find all the required components on the Internet, so you will create your masterpiece that can become a wonderful decoration for your bedroom. And it has recently become fashionable to remake vintage furniture, so why not do it together? Your romantic mood will turn even painting an old chair in a white color into a spectacular action.
7. Evening reading
If you are fans of intellectual entertainment, then this idea is for you. The evening reading is an unusual and atmospheric way to spend time together. Instead of dishes and desserts, you will enjoy quotes or whole fragments of works. The purpose of this pastime is to find out each other's opinions about things that concern you. It is worth preparing thoroughly: select quotes and prints them (or write on the sheet by hand). Sometimes it is uncomfortable to ask something directly, but you can choose a passage from a book and discuss it. Thus, you will learn something new about each other.
8. Heart-to-heart talk or evening of memories
The atmosphere for such an intimate evening will be a jointly prepared dinner or homemade cocktails. If you have just started dating, then you can ask about their background, study, work, hobbies – you will surely find something in common. If you have been together for a long time, then you can arrange an evening of memories, it is always very sweet and touching, and allows you to refresh a slightly withered relationship. After all, it is always nice to remember how you fell in love with each other at the very beginning of the journey. Well, if both of you are very brave, then you can play the game "Did you ever…."
You ask your partner a question, the answer to which may be "yes, I did" or "no, I didn't," and vice versa. Just make sure you are ready to hear the answer!
9. Playing a board game
Numerous board games have appeared on the market for the last time, so you will definitely find something to your liking. And it's not true that only kids like games. A little friendly competition can get the sparks lighting again in your couple. You will have fun and become closer to each other, and you may even find out something new about your significant other, for example, how they behave when win or lose. You can choose classic games, like Monopoly or Scrabble, or try something completely new. The main thing is to not treat everything too seriously, especially if you are a gambling person.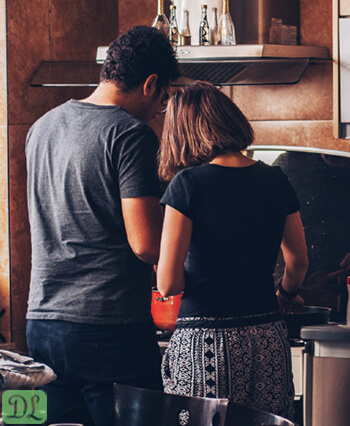 10. Cooking dinner or dessert together
Even though one of you may cook all the time, and such a pastime doesn't look romantic, everything may become different when you change your attitude and cook everything together. It can bring a lot of fun and become a wonderful way to reconnect. Just choose a dish that you have tried before or something new but not very complicated. Turn on light music, pour some wine and just enjoy the process, kissing and dancing while cooking your dinner or dessert. The main thing is to get maximum pleasure from the process and spend time together, doing something besides discussing problems and possible ways out.
11. Playing video games
If you have a PlayStation, but you don't have much time to play video games, even though both of you are into it, then it can become a wonderful at-home date night idea. To relax in each other's company and devote your free evening to playing some cool video games, you can order pizza and buy some snacks in advance. Thus, you will not get tired because of cooking and will have more time to play. Nowadays, the market offers a tremendous amount of different options, so you will definitely find something that will suit both of you.
12. Arranging a thematic evening
Some date night ideas are especially amazing because they are created and realized in the same conception from the start and to the end. Thus, you can arrange an Italian or French date. Find pleasant music and tasty dishes of the selected country and, of course, wine to your liking. After cooking, you can watch a movie that was shot in this country as well. However, you can arrange a thematic evening dedicated not only to a certain region but also a certain period in history. Thus, evening in the style of 1920' or 1950' can become a fascinating option.
13. Creating your perfect playlist and dancing
If you have alike preferences in music, you can spend this evening creating the ideal playlist that you will turn on every time in the kitchen while cooking together. You can have fun if you don't treat this task too seriously. Make a couple of tasty cocktails that will cheer you up and tune to the right mood, drink, and slow dance. Maybe this home date night idea will get unexpected continuation, and you will not finish creating the playlist, but who cares? Your positive vibes and pleasure should come first.
14. Having a fondue date night at home
Even if you don't have a required fondue machine, you shouldn't reject this idea if you like fondue. You can melt chocolate or some other sauce in a slow cooker. On the Internet, you can find a million different options that you can cook at home. Just make sure you have all the required ingredients when it comes to cooking fondue. A classic option is strawberries in combination with melted dark or white chocolate, and it is one of the easiest variants. However, if you have a fondue machine, then you can select some more complicated combinations. This idea can be easily combined with drinking wine and having a heart-to-heart talk.
15. Learning something new together
When you start learning something new, you activate your brains and get pleasant emotions if it is something to your liking. So, it's a great opportunity to take the first step toward your common hobby that will only bring you together and allow to spice up your relationships. It can be everything you want, starting with playing guitar and painting with watercolors. Don't limit yourself and find something that will suit your personalities and bring pleasure.
Spend Quality Time Together
When you start dating, you seek to spend as much time together as possible, but everything changes over time when your hormones calm down and first waves of passion fade away. And even if you spend time together, do they really pay attention only to each other? Imagine you are going on a date with your significant other, and they are immersed in their smartphone for a bigger part of the evening. It's unpleasant, isn't it? Spending time together is first and foremost being with your partner here and now. Set aside gadgets and turn off the TV if they are not a part of your date night idea. Give each other the feeling that you are here with them, you love them and want to make happy.