20.11.2019
Sooner or later, all men have to make an offer, except for convinced bachelors. And here a lot of questions arise regarding the organization of this romantic event. Every man wants to offer a hand and a heart to his beloved girl so that this event causes her unprecedented delight and awe.
Not only the one who makes the proposal is worried but also the one to whom it is addressed. The girl may be confused from the surprise and answer not the way she would like even if there is a strong emotional connection in a relationship and you are sure in your partner.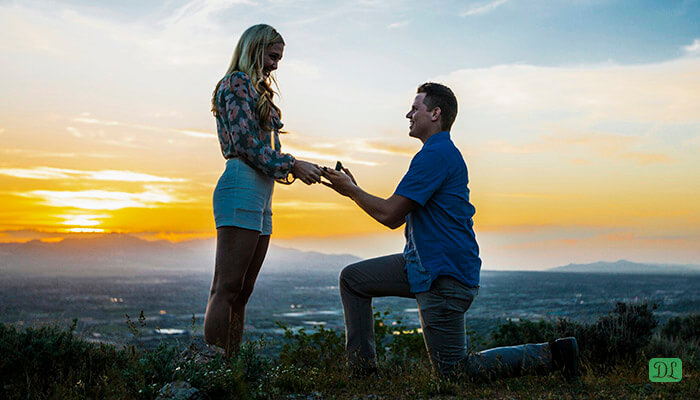 Does It Matter How You Make a Marriage Proposal?
The first thing to do before you start organizing a solemn event is to make sure that not only you but also your girlfriend, is striving to create a family. To do this, you can discuss marriage issues in advance. The proposal should come as a surprise, even if the wedding has already been discussed earlier. At the crucial moment, it would be very difficult to say the seemingly simple phrase, "Will you marry me?" This question is so significant that many men become tongue-tied. Practice in front of the mirror in order not to get trapped because, yes, how, where and when you make a proposal matters very much. At the time of voicing the main question, the girl may be presented with a ring and a bouquet of her favorite flowers. The preferences of the chosen one, as well as the size of her finger, should be known in advance. After a positive answer, the girl puts the ring on the ring finger of the right hand.
There is no clear rule on which knee to stand on. However, this knightly tradition in itself gives the event a special atmosphere. Another tradition that is now almost forgotten is to ask the bride's parents for her hand and heart. Sociologists conducted a survey, which revealed that only 19% of women believed that this step would be superfluous. The vast majority of girls admitted that such a gesture is very disposable. Be sure to tell the chosen one why you want to marry her. Let it be a banal phrase, but the girl will certainly want to hear it. Any detail matters and is of vital importance because this moment will be remembered and cherished by both of you till the end of life.
Key Features of a Perfect Proposal
All single women dating men occasionally dream of a magic proposal. Each of them strives to have a long-term relationship, be loved and protected. They expect their future husbands to think over engagement proposal ideas, care for what they think, and really any woman would like to be treated like this and know that her man cares for her. Here are the main key things that will show the woman you have been preparing thoroughly for the event and that will help you arrange everything perfectly.
Time. It's no secret that most girls are waiting for an offer from their long-term partners, the most suitable occasions for it are ordinary holidays:
Birthday
The 14th of February
March 8th
New Year
Anniversary of the meeting.
If you have been dating and living together for a long time, you may notice that your girl is upset on such days because she did not receive what she had expected. Remember that girls are romantic in nature, so the easiest marriage proposal ideas are arranged on such occasions because it is when she expects it from you.
Place. Proposal ideas for her include practically any place that comes to your mind. An interesting scenario of the marriage proposal implies that quests are used. For example, you can send a darling in search of "treasures" on your anniversary of dating. You need to carefully think through everything, draw a plan of movement for her, and in the end, you should wait for her with the ring and a proposal.
You can involve the media in such an important event. Consider printing a newspaper ad with your photos, creating a one-page website, or posting a beautiful video on YouTube. It remains only to take care that the girl sees your offer. You can arrange a real show.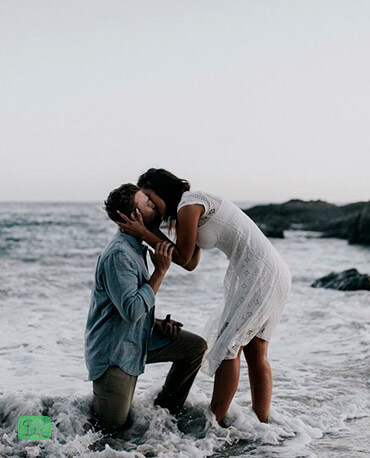 Words. The main thing in the speech is to build sentences correctly, and what exactly you say is not so important. It is best to speak in your own words, not borrowed. Girls love with their ears and feel when you are the most honest. Moreover, borrowed words may not sound so sincere. Tell the truth about your feelings. If you're worried up to experiencing shaking your knees, say so. Maximum naturalness can be achieved only if the sentence sounds in prose. Poems are good, but not at this moment. It's better to start the conversation with how much your beloved woman has changed your life and become its meaning. Speak more compliments. Say that she always looks great, even in the morning sleepy and without makeup, that you would like to wake up with her every day, look at her until old age and raise your joint children. Rehearse at home, but don't memorize a speech. The key to the best proposal ideas is that everything should feel natural, sensual and sincere.
Mood and atmosphere. Each man chooses the time and the place as well as under what circumstances he will decide on such an important and crucial step. As already mentioned above, most girls expect a marriage proposal on public holidays, on their birthday and, of course, on the anniversary of your acquaintance. For example, you don't want her to suspect something. It's better to choose a normal day and have a truly unforgettable evening. There are also nuances here, it's best if Day X is a day off or a holiday, so that the boss cannot spoil the mood and she will not be tired from work if you use one of the proposal ideas at home. This day should not be overshadowed by a bad mood. Actually, any girl will definitely appreciate it.
Best Proposal Ideas from Simple to the Most Romantic
Sometimes simple proposal ideas turn out to be the best. Below you will find a list of the 15 most interesting, unusual or just tried and true ideas on how to arrange this occasion so that the memories about it never fade.
1. The marriage proposal in the cinema
The first idea on how to propose is to make a video with a declaration of love, tell about your feelings and agree in a movie theater so that this video is shown on the screen. It is important that the girl comes to the cinema with her friend, and you suddenly appear in the hall with a gorgeous bouquet of flowers and make an offer saying, "Will you be my wife?" or "Will you marry me?" After all, every girl is waiting for this. This option is suitable only for the bravest and those who are willing to invest in shooting a video and renting advertising time in a movie theater.
2. An original marriage proposal with elements of the fire show
Lead the girl to the window, when the inscription "Will you marry me?" lights up, the main thing at this moment is to be there, so you may still have to use the help of a friend. It is not suitable for those who live on the ground floor, maybe poorly visible due to trees. But such an original marriage proposal can be adapted in other places, for example, near a restaurant, or on vacation on the beach since here a flight of imagination is welcome.
3. Offer hand and heart quest
How to propose marriage for those girls who love active rest and surprise? Arrange a quest for your beloved around the apartment or around the city, wherein you will wait for her with a ring and a bouquet.
4. Marriage proposal on her birthday
The next idea on how to propose is to have a party in honor of her birthday, invite friends, relatives and make an offer of marriage. Do not forget to invite a photographer and a cameraman or tell your friends who know how to keep secrets so that they can shoot everything on the phone. Such an event as a marriage proposal is worthy of it, and then it will be pleasant for you to review videos and photos.
5. Proposal of a hand and heart on his birthday
An alternative would be your birthday. On this day, she certainly would not expect such a twist of plot. Making an offer of a marriage, you can say, "Many thanks to everyone who came and presented gifts, thank you, my love, that you are with me, it's a great happiness for me, but the biggest gift for me will be if you answer me one question - Will you be my wife?"
6. Marriage proposal at a concert or stage
At a concert of your favorite band, in a theater or at some kind of performance ... Artists are, as a rule, willing to meet you halfway, it is best to contact the group manager in advance. This is one of the best proposal ideas if this is the band that plays that one "your song."
7. Make a proposal video
This is an original offer of a marriage and an unexpected surprise. A marriage proposal can be short but effective. For example, you decided to watch a movie together. Make a movie in advance, a cut from scenes where the hero makes a proposal. In the end, you just have to present the ring and pronounce the treasured words too.
8. On top of the world
It will take: a clear evening, access to the roof of a multi-story building with good visibility, a table, and two chairs, a beautiful tablecloth, two plaids and candles in tall glass candle holders. Having risen to the roof, seat your beloved at the table, cover with a plaid, light candles, treat with dinner and only then make an offer. For a romantic evening, choose light dessert, fruits, and sweets. The extraordinary atmosphere, combined with billions of stars overhead, will make the evening truly memorable.
9. Unexpected package
How to propose to a girl in a way she would never expect? You will need helium-filled balls, champagne, roses, refrigerator packaging and the help of best friends.
In a businesslike tone, warn the future bride that the courier will deliver her a parcel from one online store at a stated time. Stop all questions with the phrase, "I'm sorry, beloved, I will call you back a little later!" At the appointed hour, a large box should appear behind the girl's door, which friends with a serious look will bring to the house. Inside an unusual package, you will be waiting for her, armed with romantic attributes, a ring, and the sincerest feelings. Ask one of your friends to capture the whole process: from opening the package to tears of happiness and the cherished "yes." Unique memories like this will sincerely please you and your family.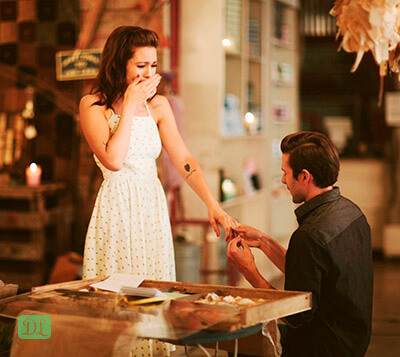 10. Attention! Emergency meeting
The scenario of the marriage proposal is as follows. The boss asks colleagues to urgently gather in the conference room. And your future spouse should be present among them. Everyone settled down, the head takes the floor, "Colleagues, an extremely important event for our company will happen today. I ask everyone to carefully look at the screen." Here you enter the conference room, get on one knee near your beautiful lady and make an offer.
11. The painting "Recognition"
You will need permission from the administration of the art gallery to rent a place for your masterpiece, an agreement with the guide, a picture depicting the two of you. You can create a picture by applying art filters in Photoshop and high-quality photo printing. A real frame will be required so that visually your masterpiece does not stand out much from the originals. Invite your beloved on an excursion to the gallery. You should visit the gallery and as if occasionally walk by your masterpiece.
12. Message in a bottle
Write a proposal for a beautiful piece of paper. Take an old bottle with a wide neck, put a note and a ring there, and then close the bottle tightly with a cork. Call your beloved to walk along the beach when she gets distracted for a moment, put a bottle at the water's edge and make her notice it. Curiosity will prevail, your chosen one will immediately open a mysterious message, where a pleasant surprise awaits her. Just make sure there are no waves, otherwise, you will have to swim for the floating ring.
13. Radio for lovers
Ask the girl to turn on the radio at the appointed time. Call the station and make her an offer live by ordering "your" favorite song.
14. Prince on a white horse
Maybe this is commonplace, but many girls still dream of a prince, so it's worth using this idea, especially if the potential bride is young and very romantic. Events can develop as follows: a man drives up under the windows of his beloved on a white horse, calls his beloved and asks to go to the balcony or the street. Moreover, he does not have to put on some special "princely" outfit, because in this version of the marriage proposal the main, oddly enough, is the white horse as a symbol of a magical future. However, it's better not to forget about the bouquet of flowers and the engagement ring.
15. The bride's bouquet
Everyone knows the tradition with the bride's bouquet. The girl who caught the bouquet at her friend's wedding will get married soon. If you and your beloved come together to visit your friends 'wedding, persuade the bride and all the unmarried girls to play along with you. When the bride throws the bouquet, it is your chosen one who should catch it. As soon as she grasps the bouquet, immediately present the ring and make an offer.
Tips for Making a Proposal to Her
There are actually no restrictions concerning how not to propose or what to avoid if you feel that your beloved will like this idea. You can come up with the craziest concept provided that it will make your beloved one happy. But here are some more advice on how to arrange everything right.
Be sure you really want it. It's not about how long you have been dating and whether you live together. Some couples come together literally two months, and someone, even after the wedding, lives in two separate apartments. Before getting married, start at least once a conversation about the future, life together, children, ideal old age and all other serious topics that are not too customary to discuss on a daily basis. Suddenly, your girlfriend believes that marriage is an outdated system of values, and does not want to be bound this way. Or, for example, she is ready to get married only when both of you get stronger, buy your own home and are ready to have children. Most people have a clear idea when it is time to move on to the wedding. And even if you are happy together, this does not guarantee that your attitude towards marriage is absolutely the same.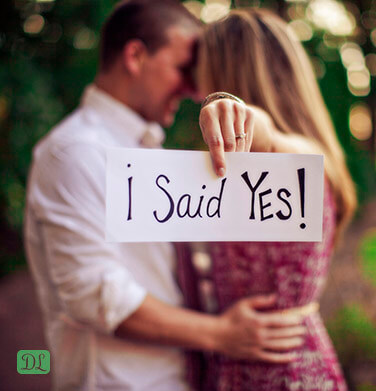 Know she wishes a marriage as well. What is more, if your girlfriend has a very close and trusting relationship with her parents, you can make her an offer counseling with them. It is better to inform mom and dad about your plans in advance and make sure that they agree. They may refuse, not only because they do not like you, but, for example, for the reason that, in their opinion, it is too early for the daughter to get married. And you know, if parents think so, in their words there may be a grain of truth and a sense to wait. If everything goes smoothly, you can get down to business and not be at a loss as to whether the approval of the parents is important to her.
Try to figure out how she sees it. Knowing the nature of the young lady, choose whether it should be a creative proposal or a sweet and romantic one. You can at least carry her on a yacht under the stars, arrange a cozy dinner with flowers and a ring in your home. Think about which option she likes best. A girl may like a simple and memorable evening that ends with a proposal. If you are planning to make an entire show, ask your friends for help in the organization. Together you can come up with everything in the best possible way. Decide how much you are willing to spend on the ring, and buy it in advance. Do not save, your future wife will wear it all her life.
Don't take dull romantic movies as a template. And although some girls say that they would not be against a pathos dinner in an expensive restaurant by candlelight, most, nevertheless, say that the movie scenario is too vulgar and sweet. So do not write "marry me" in the sky and order a string quartet to her office. Do not put the ring in food or glass either. That is an awful cliché. This is perhaps the most common movie proposal format. First, alcohol and food can ruin a ring. Secondly, a girl can swallow it. Thirdly, she cannot finish the meal. Fourth, well, who wants to put on a ring that just floundered in sparkling wine or is covered in a cupcake icing? It is sticky, slippery and smells food.
Try to be spontaneous. Planned spontaneity is probably a skyrocket science. Even if you have been thinking about how to make an offer for a long time, try not to let the girl guess that this is all a pre-written script. Few people like living on a schedule or on a plan, so most people prefer romantic gestures to be a rush of the soul rather than a clearly verified act. Try not to burn up and not give out yourself before the time comes to say the cherished words.
And to sum up, we offer you 5 great ways to find out the size of a girl's ring:
Ask her mom or friend. From them, these conversations will not look so suspicious.
If a girl has many rings, and she changes them, remember those that she wears on her ring finger and quietly take and run to the nearest jewelry store. Then they will measure the right size. If she wears rings on her middle finger, then you need to subtract 1 size, and you will get the one you need.
For example, your girlfriend removes rings when washing dishes, cleaning or going to the shower. Here is your chance. Take the desired ring and draw the inner circle of the ring on paper. You can also go to a jewelry store with this piece of paper.
If you have very little time, try on the right ring on your hand, for example, the little finger and remember the limit to where it is put on. This will be the reference point. In order not to forget, you can mark it with a pen or put a plaster on it in the right place.